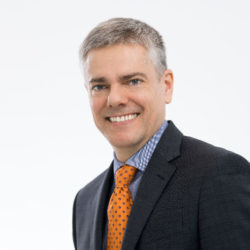 Welcome to ATALIAN CZ
It's our pleasure to introduce you our new Regional Executive Director for Czech Republic and Slovakia.
"It has been now almost 2 months since I joined Atalian on the 1st of July to lead the Czech and the Slovak operations.
After more than 22 years in the building materials industry, I was curious and excited to join the Facility Management business.
I have not been disappointed!
I am still discovering this "new world", but so far I have seen a vibrant and dynamic industry with big challenges, but great opportunities.
Alone the range of services which the Atalian Group can provide worldwide is breath-taking. In Czech Republic and Slovakia we are able to help our customers starting with the "standard" cleaning, but also with very sophisticated deep cleaning and disinfection all the way up to consulting about energy efficiency and implementation of tailor made remote control systems. Amazing.
But the industry is a tough one, with serious challenges. Our services, often "invisible" to users (and are meant to be this way), suffer from an endemic lack of recognition.
It is true that the very unfortunate COVID-19 situation has raised the awareness of us all about the importance of cleanness and hygiene and Atalian is supporting countless customers in providing a safe and clean environment to their teams and customers, but the challenge remains.
Also the social responsibility which comes with the sheer size of the workforce is a great one and which we do not take lightly at Atalian.
On the other hand, our "playground" is immense and the possibilities to offer new and innovative services to help our customers focusing on their core businesses is virtually unlimited!
I have met incredibly passionate and professional people in our organization and have seen the impact which this dedication has in our customers.
Well, my new journey has only started, but I am confident it will be a fascinating and rewarding one!"
João Paulo PEREIRA DA SILVA, Regional Executive Director Czech Republic & Slovakia